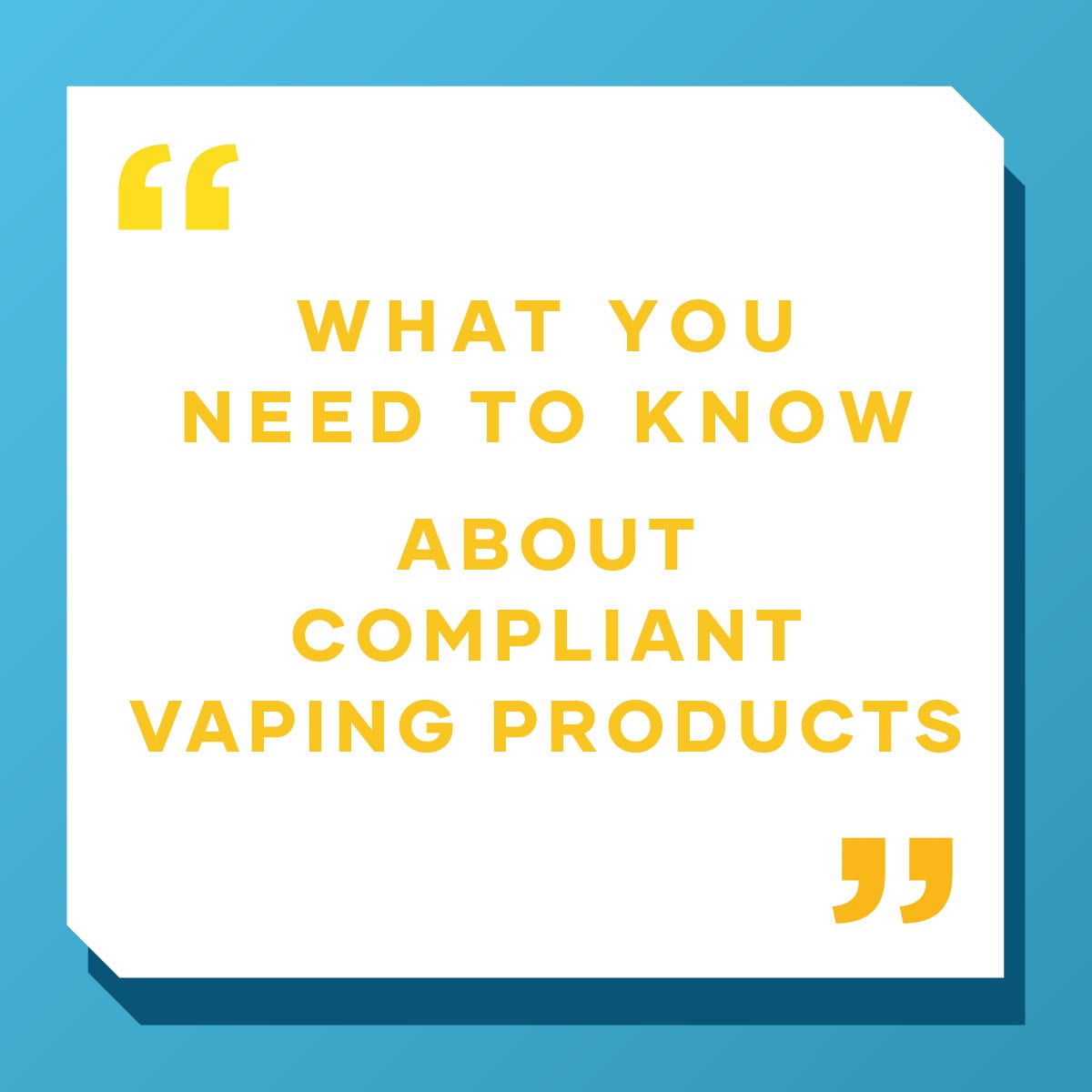 What You Need to Know About Compliant Vaping Products

As an organization, Pacific Smoke International Inc. is committed to creating compliant products that meet the regulatory requirements of Health Canada.
The following information is compiled from the authority of the Tobacco and Vaping Products Act (TVPA), Nicotine Concentration in Vaping Products Regulations (NCVPR), Vaping Products Labelling and Packaging Regulations (VPLPR), Consumer Packaging and Labelling Regulations (CPLR), and Excise Act, 2001 (EA 2001).
The government provides clear guidelines for identifying a compliant vaping product and what is not compliant. This guide will help you distinguish between compliant and non-compliant products. Vaping regulations create a safer and more gated environment that benefits everyone operating within the industry.
For more information about vape laws by province, check out: Provincial Vape Laws in Canada: Your Ultimate Guide to Navigating Age Restrictions, Flavour Bans, and Sales Limits
An Introduction to Non-Compliant Products
Non-compliant vaping products, sometimes called 'Black-Market Products,' are illegal to sell within Canada. There are a multitude of reasons that determine if a product is illegal to sell, typically, they can be classified by non-compliant packaging/labeling, nicotine levels above 20 mg/mL, and unstamped products.
There are other factors to consider as well. However, these three factors are clear starting indicators of non-compliance.
Illicit products present a very real danger to the vaping market, as there is little to no oversight on product quality and safety.
Here are a few key factors to look for when checking for compliant vaping products:
Maximum Allowable Nicotine Concentration
The Nicotine Concentration in Vaping Products Regulations (NCVPR) establishes a maximum nicotine concentration of 20 mg/mL for vaping products manufactured or imported for sale in Canada.
Any vaping product with nicotine level above 20 mg/mL is not compliant. Products marketed as "Bold 50", "Real feel 50", or equivalent, might be over 20mg/mL. Retailers should discuss this topic with their suppliers to ensure that their products do not exceed the limit of 20 mg/mL.
Packaging and Labeling
According to CPLR and VPLPR, vaping products must display the following on their packaging:
VPLPR Requirements
Nicotine Concentration

Every vaping product that contains nicotine must display a nicotine concentration statement on its packaging, by using the expression: Nicotine — XX mg/mL.
Health Warning

Vaping products containing nicotine must display the following warning in both English and French:
WARNING:

Nicotine is highly addictive.

AVERTISSEMENT:

La nicotine crée une forte dépendance.
Ingredients List

Every vaping substance must have an ingredient list that must be shown on its product packaging. The ingredients list must be displayed in both English and French using their commonly recognized names - without any abbreviations.
Toxicity Information

The toxic hazard symbol, a toxicity warning, and a first aid treatment statement must be displayed on the vaping product packaging if nicotine is present in the product. Both English and French must be used.
Directions for Opening and Closing

Directions for opening and closing a child-resistant container must be provided. Both English and French must be used.
CPLR Requirements
Product Identity

A product identifier refers to the product's common name in terms of its generic name or function. (e.g. E-liquid/E-liquide, Pod/Cartouche). It must be in both English and French.
Net Quantity

Net quantity refers to the product's quantity, by volume, mass, or numerical count, whichever is appropriate as prescribed by regulations. It must be in both English and French, where applicable.
Canadian Dealer Identification

Canadian importer/distributor's business name and address must be displayed on the packaging.
Non-Compliant Flavour Names and Description
Elements that could cause a person to believe that the product has any one of the following flavours set out in Schedule 3 of the TVPA are prohibited.
Cannabis
Confectionery
Dessert
Energy Drinks
Soft Drinks
Depiction of a Person, Character, Animal
The depiction of a person, character, or animal, whether real or fictional, is prohibited. For example, a picture or illustration of a person or character is non-compliant.
Excise Tax Stamp
According to Excise Tax 2001, vaping products must have a vaping excise stamp to indicate that the duty has been paid.
Be cautious of products that do not have stamps or have stamps that may appear fraudulent. Here is an example of the vaping excise stamp and the indicators you can assess: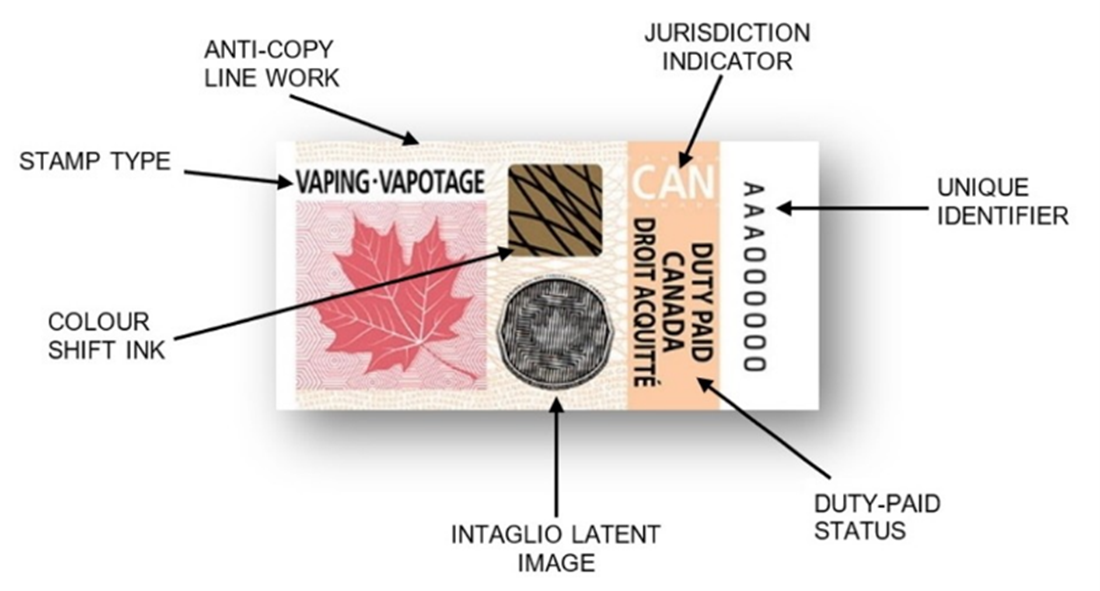 ---
What are the penalties?
Penalties for a TVPA violation
The TVPA has outlined that offenders are subject to a fine not exceeding $500,000, or imprisonment for a term not exceeding two years, or both.
Fines and jail time are at the discretion of Canadian Law Enforcement.
Source: TVPA, Part VI
Penalties For Unstamped Products
Any business caught possessing unstamped vaping products will be subject to a fine, or jail time, depending on the severity of the offence and the offender.
Fines are multiplied between 200%-300% of the total unstamped inventory, depending on the severity of the offence. Fines may cap out at $500,000, depending on the situation.
If the offence is of a more serious nature, the offender may be subject to jail time. The maximum jail time for an unstamped offence is five years.
Fines and jail time are at the discretion of Canadian Law Enforcement.
Where To Report Illegal Vaping Products?
If you suspect that someone is selling illicit vaping products, you can reach out to Health Canada's general inquiry
email at: hc.tcp.questions-plt.sc@canada.ca
If you believe someone is selling unstamped vaping products, you can also contact the CRA Vaping Products Unit by
email at: LPVAPINGG@cra-arc.gc.ca
Learn more about Vaping and Compliance Enforcement
For the vaping industry to succeed, it is critical that we have a shared interest in creating a well-regulated and guarded environment. Transparent vaping laws create a more efficient and profitable marketplace if we all participate in good faith.
Working together, we can maintain the integrity of the vaping industry and minimize illicit products – that harm the reputation of our industry.

*This information was updated in February 2023 and may be subject to change.
---
Disclaimer:
Any guidance or information provided here does not, and is not intended to, constitute legal advice; all information, content, and materials provided here are for general informational purposes only. The information provided may not constitute the most up-to-date legal or other information. The person should contact their own lawyer to obtain legal advice with respect to any legal question.
No person should act, or refrain from acting, based solely on the information provided here without first seeking legal advice or counsel. Only your individual lawyer can provide assurances that the information contained herein – and your interpretation of it – is applicable to or appropriate to your situation. All liability with respect to actions taken, or not taken, based on the information provided here, is hereby expressly disclaimed.
For more information on Canadian vaping laws:
Learn more about the CPLR
Learn more about EA 2001 (Excise Tax)
Learn more about the NCVPR
Learn more about the TVPA
Learn more about VPLPR