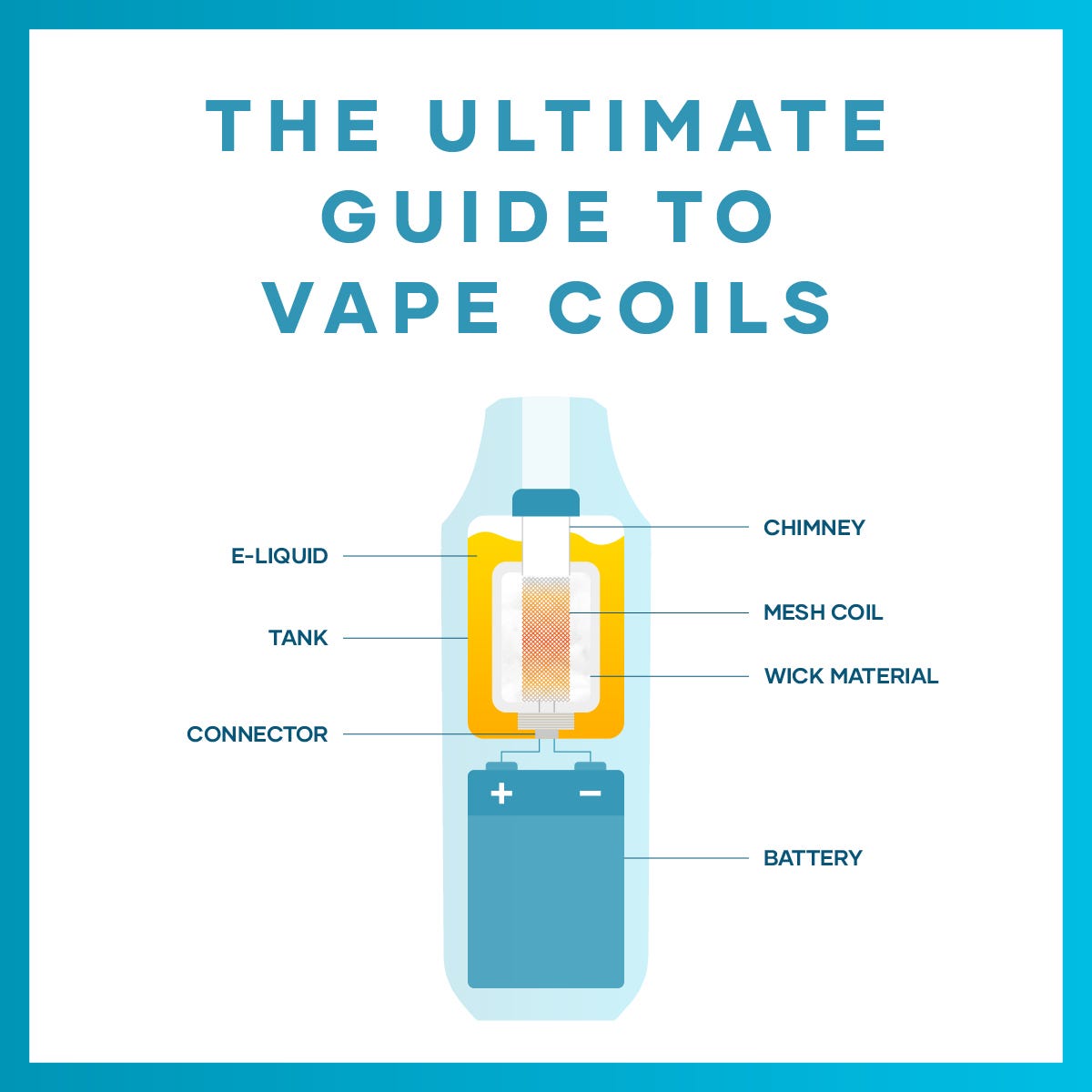 The Ultimate Guide to Vape Coils:
Unleash the Power of Your Vaping Experience
Table of Contents:
Introduction to Vape Coils

Purpose of Vape Coils

Types of Vape Coils

Mesh Coils

Definition and Function

Benefits of Mesh Coils

Applications in Disposable and Closed-Pod Devices

Dual Mesh Coils

Overview and Operation

Advantages of Dual Mesh Coils

Considerations for Rechargeable Devices

Ceramic Coils

Description and Usage

Features of Ceramic Coils

Availability in Different Devices

Temperature Coils

Introduction to Temperature Coils

Adjustable Temperature Feature

Materials Used in Temperature Coils

Choosing the Right Vape Coil

Factors to Consider

Compatibility with Devices

Meeting Vaping Preferences

Conclusion

Importance of Vape Coil Selection

Where to Find Vape Coils

Contact Information for Further Inquiries
Introduction
Vape coils are a necessary part of every type of vape. They facilitate the conversion of e-liquid into vapour through the process of heating.

The coil absorbs the e-liquid from the reservoir or tank inside the vape and heats it to be inhaled. This can happen almost instantly (such as with disposable vapes) or can take some time (such as with devices that require a button to be pushed to generate vapour).

There are 3 main types of coils found in modern vaping devices. These include mesh coils, ceramic coils, and temperature coils.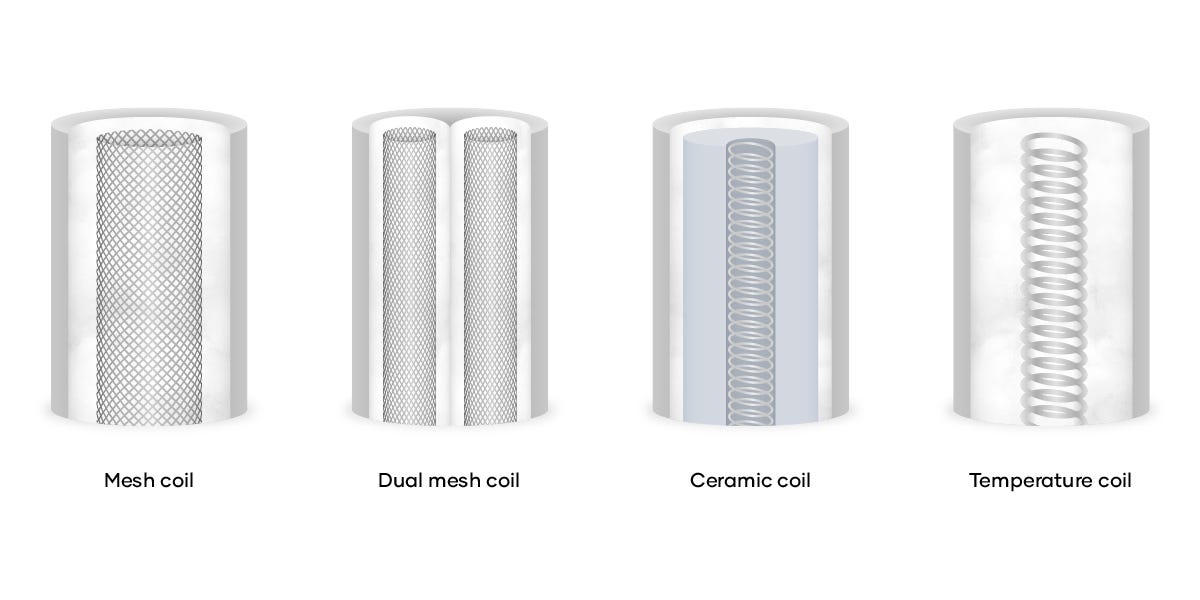 Mesh Coils
Mesh coils are a common occurrence in vapes these days, especially for disposable and closed-pod devices. They consist of a mesh "net" made up of metal. The mesh coil creates a larger surface area than standard coils, allowing e-liquid to heat up faster. This is what makes mesh coils ideal for disposable and closed-pod devices since the e-liquid needs very little time to convert to vapour.

The surface area of a mesh coil also prevents hot spots meaning they last longer than standard coils and are excellent for e-liquid flavour and vapour quality.
Dual Mesh Coils
A dual coil performs similarly to a standard mesh coil, except it evenly disperses the e-liquid across two coils to heat up, effectively doubling the surface area of the coil.
So why use a dual coil instead of a single mesh coil? Dual coils allow e-liquid to be heated even faster and provide improved flavour and vapour quality. This is how we get "big clouds".

Dual coils are great for rechargeable devices, however, they will use up the battery quicker than their alternative so is something to keep in mind for vaping on the go.
Ceramic Coils
Ceramic coils are more commonly available for individual purchase for use in mods or tank-based devices. They can, however, still be found in some disposable devices. Ceramic coils use a porous ceramic wick (instead of cotton) to absorb the e-liquid from the reservoir.
Ceramic coils have greater longevity than standard coils, can reduce spit-back, and like mesh coils, are excellent for e-liquid flavour and vapour quality.
Temperature Coils
Temperature coils are for advanced mods and vape users as they allow for the user to adjust the maximum temperature the coil reaches. These coils are typically made from nickel or stainless steel.
Conclusion
Whether you're looking to purchase a disposable device with the right coil, buying a choil for your mod device, or want to educate your customers to make the best decisions for their vaping needs you should be well-equipped with all the information you need! If you want to shop for vape coils for your store visit the PSI hardware page.

For any questions about vaping hardware or any of your vaping wholesale needs reach out to us today!
*The information provided in this article is from May 2023 and may be subject to change.


Disclaimer:
The information provided in this article is for educational and informational purposes only. It should not be considered legal advice, and the authors and Pacific Smoke International Inc. make no representations or warranties of any kind, expressed or implied, about the completeness, accuracy, reliability, suitability, or availability with respect to the information contained in this article. Any reliance you place on such information is strictly at your own risk. The authors and Pacific Smoke International Inc. will not be liable for any losses and/or damages in connection with the use of this article. It is your responsibility to ensure that you are complying with all Federal, Provincial, and Territorial laws and regulations regarding vaping products. Please consult with a legal professional or regulatory authority for specific guidance.