CANADIAN WARRANTY & RETURNS POLICY
EFFECTIVE September 1st, 2019
Due to the nature of the industry, and the lack of practical support offered by manufacturers, please understand that returns and warranties are extremely limited. A lack of understanding and knowledge of products is often the source of the problems. In order to improve the user experience, we highly advise that research be performed prior to ordering products to ensure compatibility and the desired experience will be achieved for your customer. As the industry matures, we expect manufacturers to extend to all vendors a more robust and comprehensive warranty structure. We will communicate such changes in a timely fashion to our clients.
WARRANTY & RETURN
Please ensure you are returning items which qualify under our policy.  Some items are not covered under warranty due to health and safety reasons."
All claims must be accompanied by this form so we know what to process, and also to prevent your returns from being lost.  Please make copies and include this form in all boxes being returned to us (if applicable).  
Incorrect information may result in refunds not being issued.
Contact us if you have any further questions at rma@pacificsmoke.com or simply call us at 1-855-968-8273 to speak to a service specialist.
Products that are covered under our warranty
Pacific Smoke International offers a 180 day warranty period* (Effective as of September 1st, 2019) for defective products from the time of invoice for the following items.
Mods and Starter Kits (All items that need to be warranty must be in like-new condition and have the associated serial number).
External Battery Chargers
Products that are not covered under our warranty
Due to the nature of the industry, we do not accept warranty claims for the prescribed items. It is highly advised that you inform your customers about this policy should it differ from the warranty you extend to your retail customer.
**Arizer Products (For all warranty concerns please contact Arizer)**
**Juul Products (For all warranty concerns please contact Juul)**
**Smoant Products (For all warranty concerns please contact Smoant)**
**Stlth Products (For all warranty concerns please contact Stlth)**
**STIG Products (For all warranty concerns please contact STIG)**
Clearomizers, Tanks, and Pods (cannot be returned for hygiene reasons)
External Batteries (18650, 26650)
Disposable Tanks (eg. Stig)
Atomizers
Drip Tips
USB Chargers & AC Adapters
Cases
Replacement Glass
E-Liquid
Pre-filled Pods
User Error (Water damage, Physical damage)
All Final Sale Items (There will be no warranty on any items purchased through any sales as they are final)
How to Warranty Defective Products
Please fully complete the Warranty Form.
Please ensure that both the serial number and security code (if applicable) for the item is entered completely and correctly into the available field.
Once your form has been submitted and email with a Warranty Form ID# will be emailed to you. Please also keep a copy of the form and the email for your records
Sample Photos
Below is a sample code that must be provided.
NOTE: The barcode is not the serial/security number. If you need further assistance please call our customer service at +1 647-557-3308.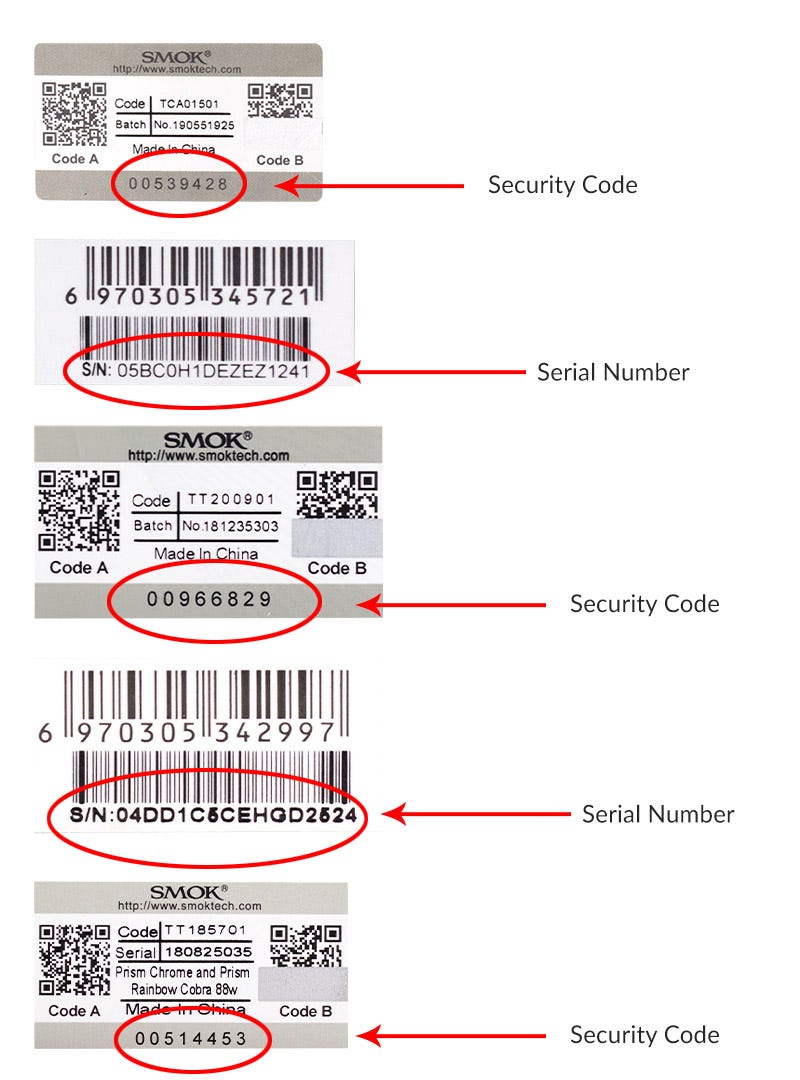 Do we require you to return the defective items?
The simple answer is no. Warranty handled directly by the manufacturer might have a different process. (Please review section "Products that are Not covered under our warranty" to see list of direct manufacturer warranty)
We may at our discretion require you to return an item back to us with the matching serial number for inspection.

Please retain the defective products for 30 days after being issued an RMA number and/or credit memo for audit reason

, After 30 days you may responsibly dispose of the defective products. We may ask for further verification of the validity of the warranty. Pacific Smoke International Inc. holds the right at its sole discretion to cancel any issued credit memo if customer upon request cannot provide additional supporting details and/or unable to send back the defective goods within 30 days of receiving the RMA number and/or credit memo.
How to send back items if required (or requested to)
An RMA (Return Merchandise Authorization) number will be issued if a product(s) needs to be returned back, along with instructions on how to return the product(s).
Only return items that have been approved.
RMA number must be clearly displayed on the outside of your package or your refund could be significantly delayed or refused. We will make every effort to process your return quickly.
Pacific Smoke International will not pay or refund any shipping charges unless we made an error in order processing. Pacific Smoke International is not responsible for any damage that may occur during shipment to the item(s) you are returning. For your own protection, it is highly recommended to send your return via insured parcel post or courier.
How long will the process take before I get my replacement or credit?
We will review all submitted forms in a timely manner, but may take up to 14 days.
Once we have determined that the device was a manufacturer's defect within the warranty period we will issue a credit towards your account or replacement product. Please ensure all the provided information is correct.
If products are being returned we will need to wait until they have arrived at our facility in order for us to process your claim.
If the part of the device that is malfunctioning is replaceable, we will only credit/replace that part only. (ie. Leaky tanks, Faulty Pod)
You will be notified via e-mail upon the completion.
Returns/Exchanges
There are no refunds or exchanges on brand new items purchased through Pacific Smoke International unless we made an error in order processing or a wrong item was sent. Please notify our Customer Service Department of the error within 7 days after delivery via email service@pacificsmoke.com. All shipping charges will be covered by Pacific Smoke International.